Farmers Market Coalition
The national Farmers Market Coalition is a 501(c)(3) nonprofit dedicated to working with farmers market operators to strengthen farmers markets across the United States so that they can serve as community assets while providing real income opportunities for farmers.
NOTE: The content on this page is taken directly from their website.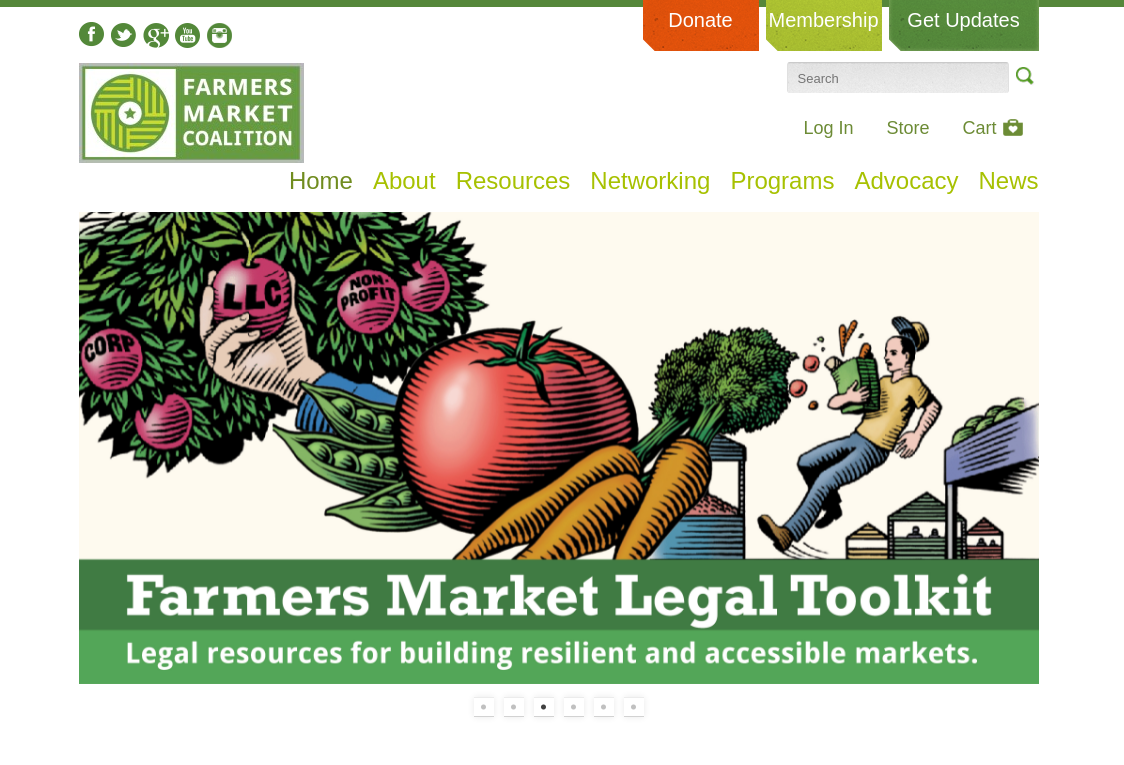 What is a farmers market?
A farmers market is a public and recurring assembly of farmers or their representatives selling the food that they produced directly to consumers.  Farmers markets facilitate personal connections and bonds of mutual benefits between farmers, shoppers, and communities. By cutting out middlemen, farmers receive more our food dollars and shoppers receive the freshest and most flavorful food in their area and local economies prosper. Each farmers market defines the term "local" according to the agriculture of its region and regularly communicates that definition to the public. Farmers markets also implement guidelines and operating rules that ensure the farmers market consists principally of farms selling directly to the public products that the farms have produced. In order to protect both farmers and consumers, some states have even established their own formal definitions which specify market characteristics in more detail. The number of farmers markets in the United States has grown rapidly in recent years, from just under 2,000 in 1994 to more than 8,600 markets currently registered in the USDA Farmers Market Directory.
What will I find at a farmers market?
It depends. Farmers markets vary in size and always reflect a region's agriculture and seasons. Some markets are seasonal and comprised of a small number of vendors, while others involve hundreds of vendors and take place year-round. It is a source of pride to farmers and market shoppers alike that the products available at farmers market represent the agricultural of a region or state. Depending on the time of the year, you might find avocados, olives, steak or artichokes in Texas or California, and be more likely to find paw paws, peanuts, pork, and peonies in Virginia.
Some markets concentrate on produce, while others carry everything from fruits and vegetables to baked goods, meat, eggs, flowers, and dairy products. Some may carry locally made crafts or prepared foods as a complement to the agricultural products they sell. As the number of markets grows, so does the variety of foods available.
How do farmers markets determine what to carry?
What is at market depends on a combination of location, season, and market rules about what can be sold. Many farmers markets only carry locally-grown, locally-made and/or locally-processed, foods, and create a system of guidelines that ensure vendors are producing what they are selling. Farmers markets are unique insofar as they give shoppers transparency while also protecting local farmers from having to compete with lost-cost, low-quality, often imported meat and produce. The great thing about farmers markets is that if you are ever unsure about what a product is, where it came from, or how it was grown, you can just ask! Some direct-marketing farms even offer tours.
Are farmers markets only open in the summer?
Peak harvest season is usually peak market season, and some markets are only open in the spring, summer, and early autumn.  In 2010, roughly 15% of all farmers markets were open in the winter months. Nevertheless, year-round farmers market thrive in many states. Many markets are expanding their seasons or transitioning to year-round operation by offering their shoppers items including meat, eggs, dairy, bread and other products that are available fresh throughout the year. Even in colder climates, farmers are implementing a variety of season-extending techniques that can protect crops from frosts and allow them to be picked and sold fresh for more weeks of the year. You can learn more about what is seasonally available in your community here.